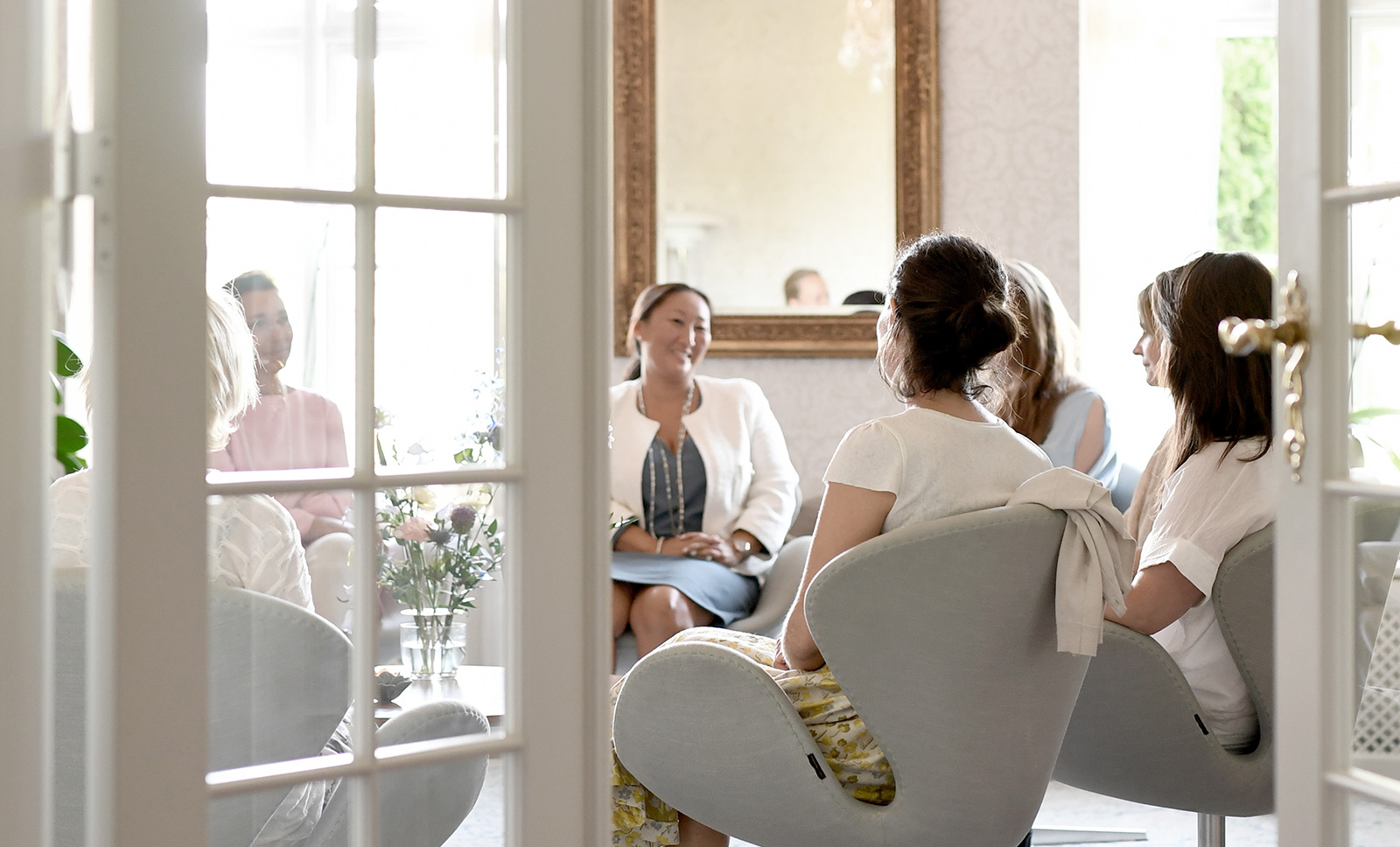 The Spiritual Leadership Course
Optimize your personal leadership, strengthen your intuition, get more energy and get to know your own manifestation power. Achieve inner peace, balance and harmony by increasing your focus on your consciousness, thoughts and emotions.
Boost your courage, confidence and authenticity to show the world who you are. Create harmony and balance between body, mind and soul and make them work better together. Break the negative patterns in your life - and build new positive ones that work. Become more satisfied and create more success for yourself - professionally and personally.
WHAT IS THE SPIRITUAL LEADERSHIP COURSE?
How can you lead and show the way to others, if you do not know the way to your own heart? And to your own authenticity?
The Spiritual Leadership Course is a training course in living and leading your life in a way that enables you to lead others.
In addition to learning spiritual principles and tools, the Spiritual Leadership Course is also an opportunity for you to grow.
Doubt often triggers people to enter into career counseling with me. Some people have lost the belief that they can advance in a current job, others have completely unrealistic expectations to their opportunities.
There are many possible paths and industries to choose from. Together, we will map out the steps that will bring you to greater awareness of your abilities, opportunities and goals. I do not tell people what they want to hear. I tell them what they need to hear in an empathetic way with the purpose of moving forward and creating opportunities. We do not tear down, but we build up - together.
Your individual development package consists of 3 sessions of approximately 1 hour each, which we schedule on an ongoing basis and within the time frame of the course.
Coaching with me is not necessarily in a format where my clients must find all answers within themselves. I ask a lot of questions, but I can also provide guidance. Or include my own and other peoples' experiences in the conversation.
You will reconnect with forgotten personal resources, discover new sides of yourself and find new paths to pave.
NEW PERSPECTIVE
You will end up seeing both yourself, your employees and the rest of the world from a new perspective. You will get new and different ideas than you expected - because spiritual leadership is not about figuring things out, but about integrating new ways of looking at life.
Spiritual leadership is both about the bottom-line results and business. About seeing patterns and dynamics, mastering your energy, and following your soul and heart in everything you do. We take the best from both worlds and merge them together. During the course you will meet other managers, entrepreneurs and private individuals - who do not necessarily see things the same way you do. A large part of what you take with you from the course will come from the dynamics and conversations in the group.
You do not need to be in a top position in your organization to strengthen your spiritual leadership. However, curiosity, openness, willingness and an ability to self-manage are prerequisites for a successful completion of the course. Therefore, I meet each participant in advance and assess if a basic desire to change is present. I will only put together groups that I intuitively know will be able to have a great time together and learn from each other.
The course runs over 8 months, where you will work with the following:
What is energy and how do you master it in order to achieve greater profits and better balance?
What is intuition and how do you use it as part of your management style?
What are your unique gifts and talents, and how do you integrate these into your work life to achieve deep satisfaction personally and professionally?
What is meditation and how do you get effective meditation into your everyday life?
What is the "Law of Attraction" and how can you create what you want?
What are your unconscious patterns and where do they restrict you from achieving what you want?
What are your next career-related steps and how do you manifest these with success?
How do you use your spiritual abilities to guide yourself and others?
How do you create visible and measurable results?
WHO ARE YOU?
You are probably quite resourceful and are already using your intuition to make decisions.
You are open and you feel what your colleagues are feeling
You spend a lot of energy scanning other people's wants and needs, because you have a clear sense that you can help others - and you often do
You are sensitive and at the same time you need a sense of safety and also praise
You give a lot of your own energy to others - it has become a repeated pattern
You miss guidance and sparring about your career choices and future decisions
You probably need:
A method to create even better results in both your professional and personal life
To use your spiritual abilities more consciously and purposefully
The tools to steer your career in the desired direction
WHAT TO EXPECT
There is a maximum of 10 participants in each course, and interviews are conducted prior to registration.
The investment for the entire course is DKK 52.500, - excl. VAT.
Registration is binding for the entire course.
WHAT'S INCLUDED
An individual career development package consisting of 3 sessions of approximately 1 hour each which we schedule on an ongoing basis and within the time frame of the course.
7 training days on weekdays from 1- 6 pm.
A double module of 2 days at Kaffeslottet, Bornholm incl. accommodation and meals.
THE LOCATION
The course, as well as the individual sessions will take place at Rikke Hertz Counseling. The double module will take place at Kaffeslottet on Bornholm.
Please contact us for further information. We look forward to welcoming you in the next class kicking off in January 2020.
All classes are in Danish, and will terefore only be available for Danish speaking clients.